Born and raised in Livermore Ca. I am part of the Generation X. I have been around Bicycles and Motorcycles all my life. I moved 40 miles south in the late 90ís to buy a new house in Patterson Ca. Soon after Deldovacycles was established. The love of 2 wheelers is just in my blood so when the Kikker 5150 Hardknock came out in the summer of 2006 it just got me so motivated to dive right in and take this bike to then next level. Metal working and tinkering just comes easy for me. Most of my ideas start out in my head and I may need to sometimes lay it out on a peace of cardboard or what ever to get the right dimensions. But before you know it I will have a working part in my hand or on the bike ready for production or testing. I started out with Hot Rods and have worked in many different industries form Computers to Agriculture to custom job shops. I learned early on that any thing is possible with metal fabrication once you know the rules of metalworking.
The Kikker 5150 Hard Knock is a tried and tested design nothing new there. What is fantastic is the fit, finish, reliability and most of all the affordability of this Motor Driven Cycle that makes it a revolution in it own right. The explosion of over priced custom motorcycles has priced out the little guy to death not to mention production show room motorcycles as well. The Hard Knock makes it possible for all ages with all back grounds to truly enjoy what it feels like to build your own bike with your hands and still have the wind blow in your face with a smile a mile wide. Now is the time for you to come aboard the Knock Revolution and to be part of the Knock Nation that is growing every day. I am a full time Knocker so you can call or e-mail or me at any time for any inquiry you may have.
Remember do not knock until you have Knock it.
For any other question you might have just contact Joseph at deldovacycles@gmail.com or 209-617-3012.
My good ole Mother in the late 70's standing next the first ever chopper I seen go together, Fire up and ride on the back of. Very old school.
My First Mini Bike. I still have it today.
Me on one of my first bicycles.On the street I grew up on.
This was my 20" Dream bike back in the day. A GT Performer. I miss that bike a lot.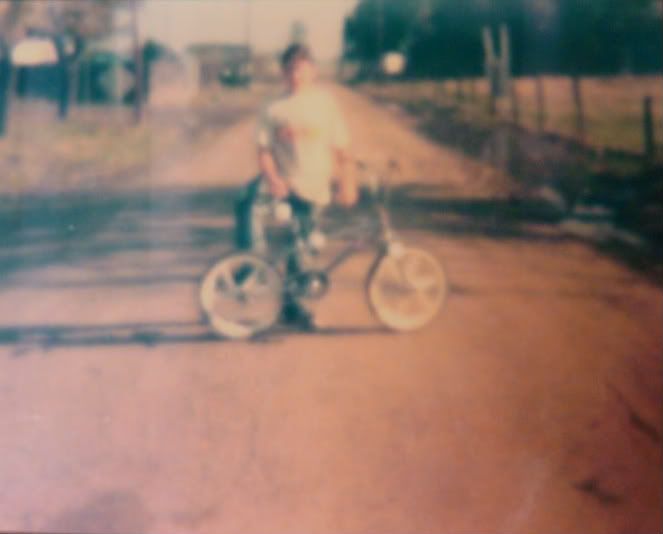 If you are a Knockelhead and need aftermarket parts for your Kikker 5150 Hard Knock then I am your man. I am a manufacture with sales and service also.
Clayvins Clips is unique tape measure holster that I designed many years ago. This product is patented and ready for you and every one you know.
Hide a Tools Bumper is new product that I designed and built for my own truck. If you are sick and tired of not having enough truck bed space because of your huge tool box your driving around with then the HideATools Bumper is for you.